Customer Focus & Pursuit of Effectiveness
Over the past decades, managing director has been devoted in the stainless steel market, especially in the Annealing and Pickling Line (APL). As a technology leader, we have supplied our products widely (like Ceramic Fiber Rolls, Silicon Lined Anode and Lead Anode) and been the regular supplier in YUSCO, Shanghai Krupp Stainless and other mills. Our professional team and advanced facilities provide high-quality products to satisfy clients' requirements. Additionally, our competent people who have an open ear for all questions could support clients technically.
Certificates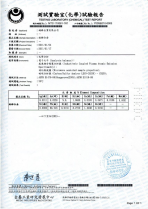 ME is available to provide test reports, element composition reports & inspection reports of Lead & Silicon Lined Anodes.
Read More